HD 720p Smartphone controllo PTZ Wireless telecamera IP WiFi


HD P2P Hone protezione IP fotocamera caratteristiche & funzioni:
Questa telecamera IP wifi di casa è plug and play telecamera ip, molto veloce e facile da usare e configurare. La telecamera ip hd può essere collegata con il tuo smartphone/pad/PC, è necessario solo la scansione del codice QR, aggiungere il Yoosee di APP per il tuo dispositivo intelligente. Controllo ptz supporto telecamera ip p2p, pan 355 gradi, 90 gradi di inclinazione. Con il grandangolo, è possibile visualizzare qualsiasi angolo della vostra casa.
Visualizzazione mobile supporto (1), immagine di acquisizione allarme, colloquio bidirezionale di voce, telecomando e monitor audio
(2) controllo di sostegno PTZ: 355℃ orizzontale, verticale 90 ℃
(3) supporto multi-lingua, identificazione automatica di lingua secondo sistema operativo mobile
(4) protocollo di supporto ONVIF
(5) supporto IR visione notturna: 0 LUX di illuminazione bassa, 11pcs luci a LED, distanza di IR: 25meters
(6) rilevazione di movimento di sostegno: caricamento di informazioni evento e allarme via e-mail o FTP
(7) supporto codifica con sensori di allarme senza fili, come i rilevatori PIR, contatti magnetici porta/finestra, rilevatori di fumo ecc.
(8) supporto CMS, max per 64ch
(9) supporto password multi-livello di protezione, alta sicurezza
(10) carta di TF max supporta 64 G
(11) senso dell'installazione: parete di montaggio, montaggio di sollevamento
Specifiche telecamera IP Wireless di micro SD Card Slot
System

CPU

Industrial-grade embedded microcontroller Hi3518E/GM3518S

Operating system

Embedded LINUX OS

Soft system

Android IPhone Windows

Video

Image sensor

1.0MP CMOS

Video Compression Format

H.264

Video Signal System

PAL&NTFS for optional

Video Resolution

720P:1280*720 960P:1280*960

Playback Image Quality

720P/960: 25fps or 30fps

Motion Detection

Support

Minimum illumination

OLUS/F1.2

IR

Support 5th generation high light IR

Video call

Support high-fidelity speakers

Screenshots function

Support

Audio

Compression

AMR

Audio Output

Built-in microphone

Audio Input

Built-in speakers

Alarm

Alarm triggered

Email Speakers alarm,Alarm recording,Capture&Email

External Alarm

Support all kind external wireless alarm linkage 433MHZ 315MHZ

Alarm Hint

Speakers alarm,Alarm recording,Capture&Email, mobile phone ringtone

Network Conection

RJ45

1 RJ45 Interface, 10/100 Self-adaption

WIFI

Support, 802.11 b/g/n

P2P

Support, unique P2P number, can work in LAN

Safety

Password Protection

Multilevel encryption, seniority password protection

Others

Power Supply

DC 5V 2A

PTZ Control

Built-in horizontal and vertical control motor

Power Consumption

3W

Working Temps

0℃- + 55℃

Working Humidity

10%-90%

Size

130*100*123 mm with WIFI antenna

weight

800g
Vista Home Wireless 720p telecamera telecamera IP di P2P h. 264 Dettagli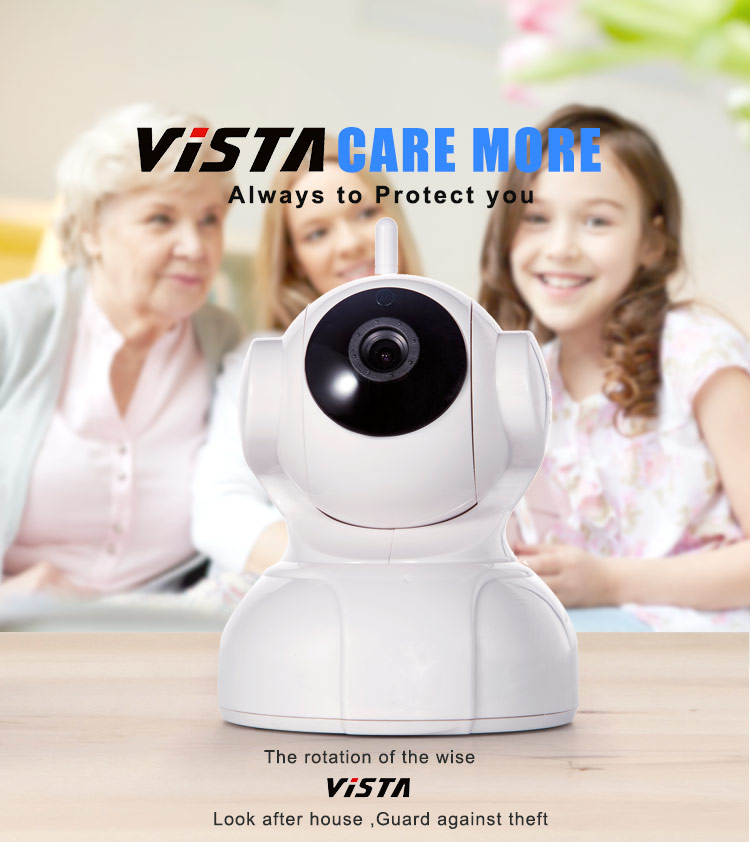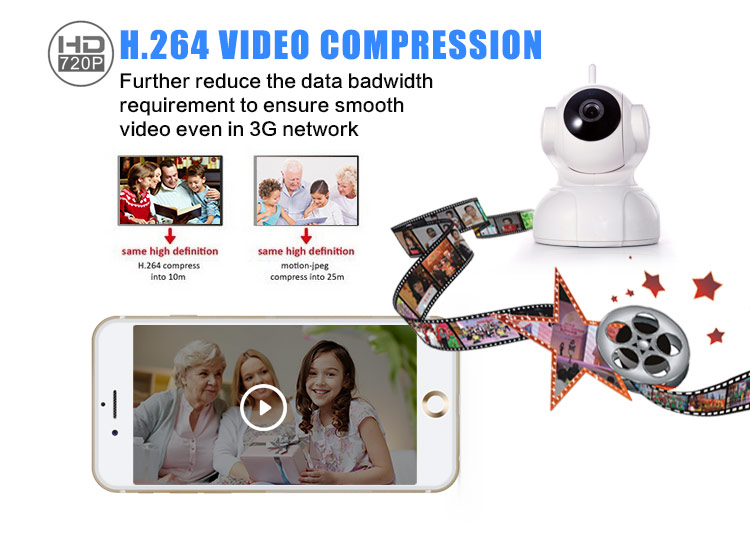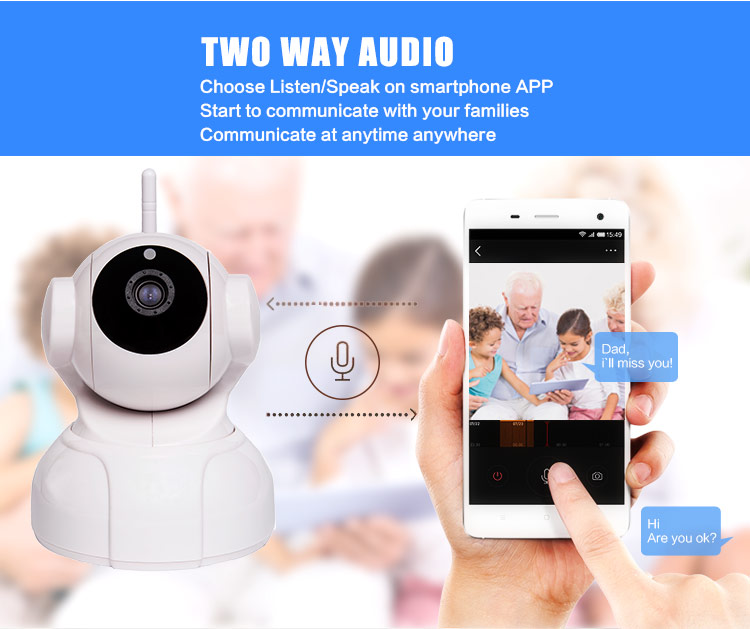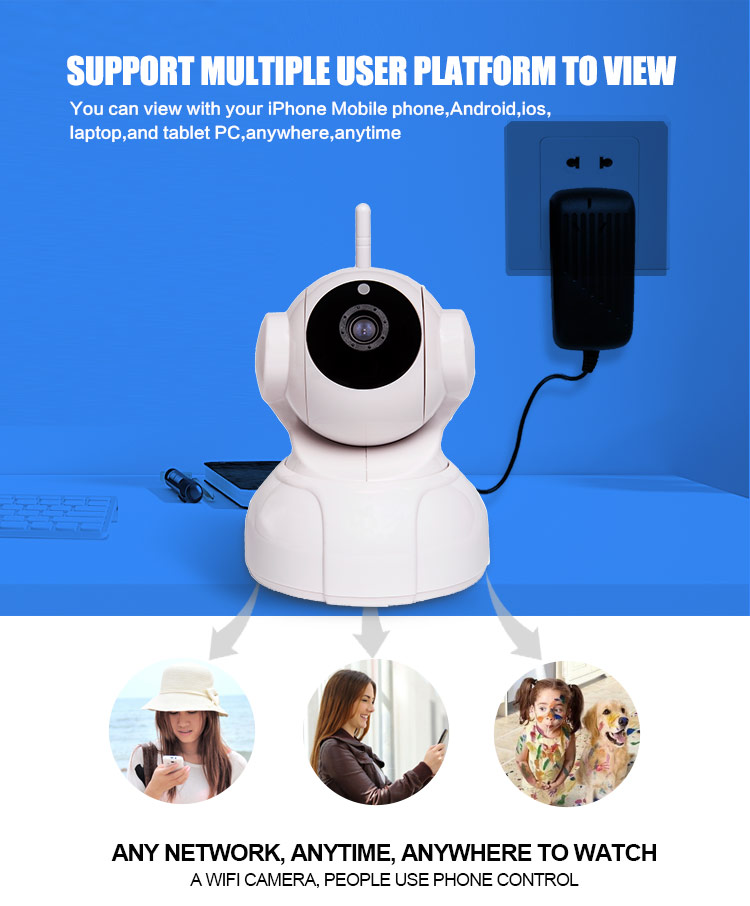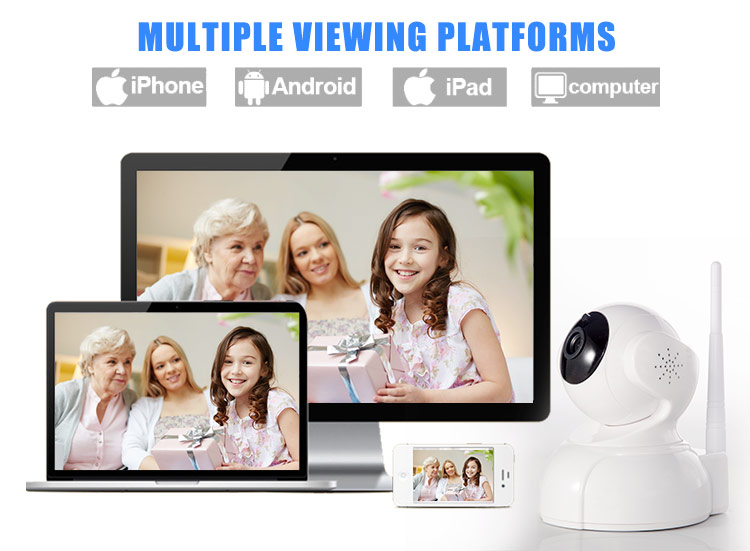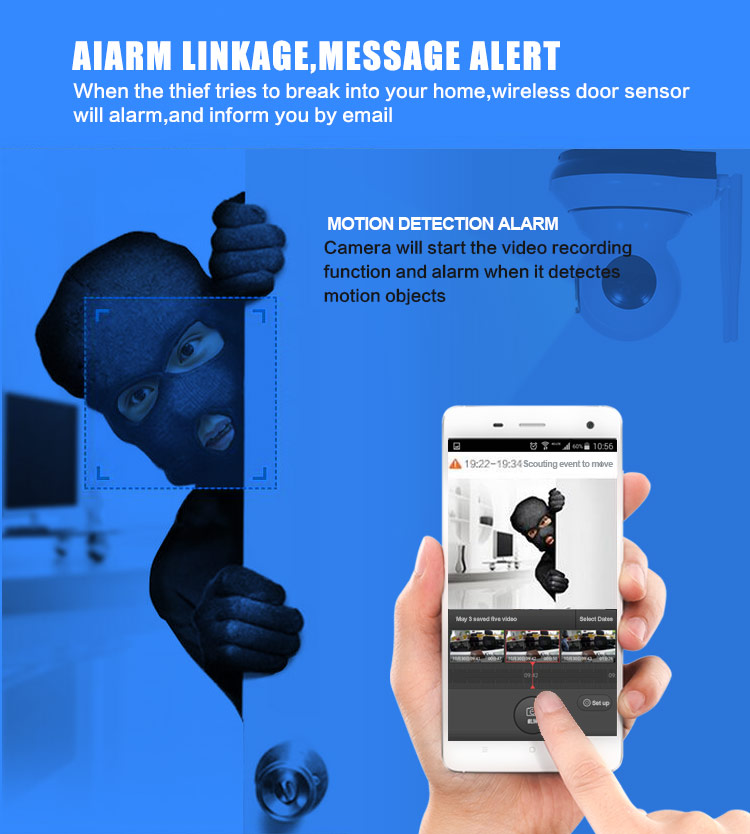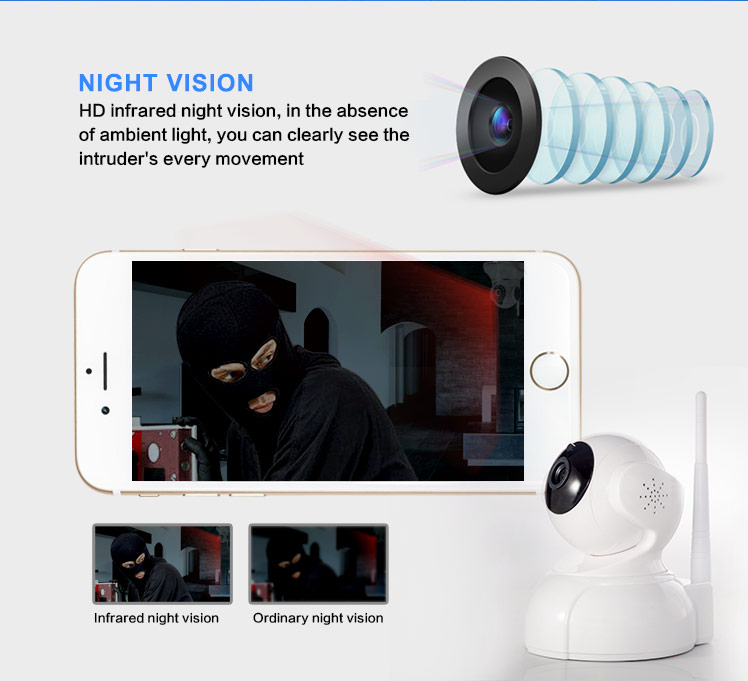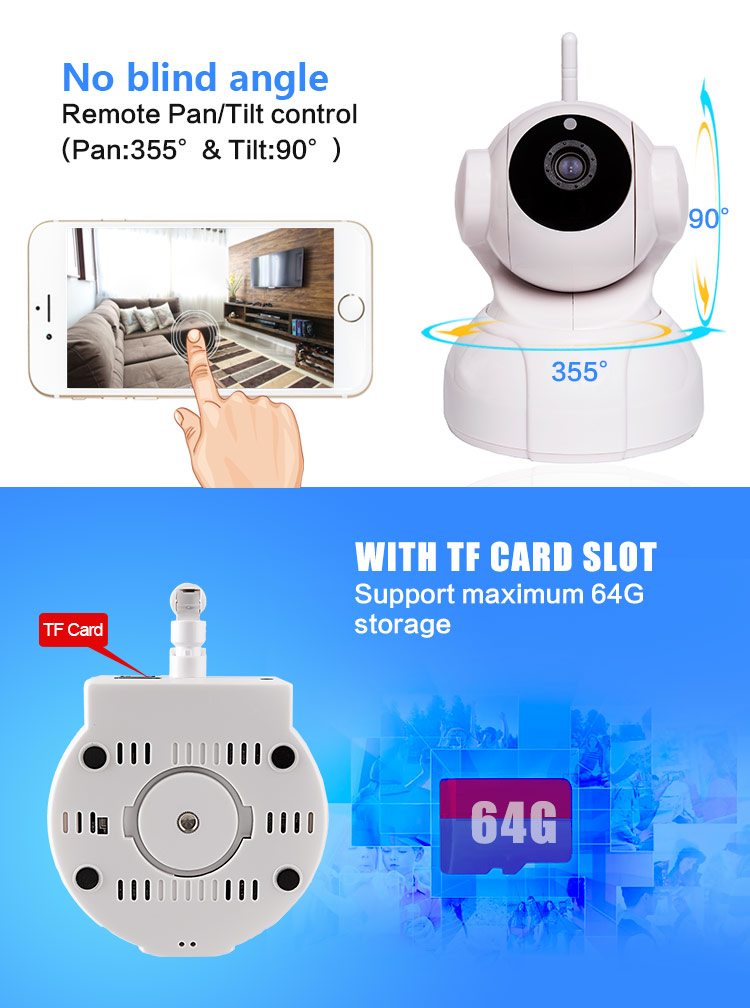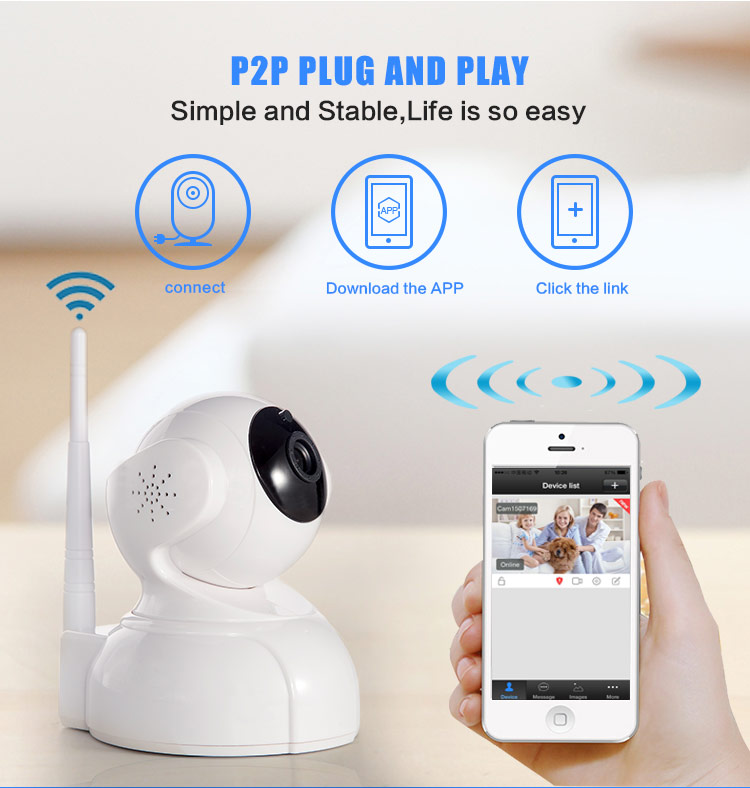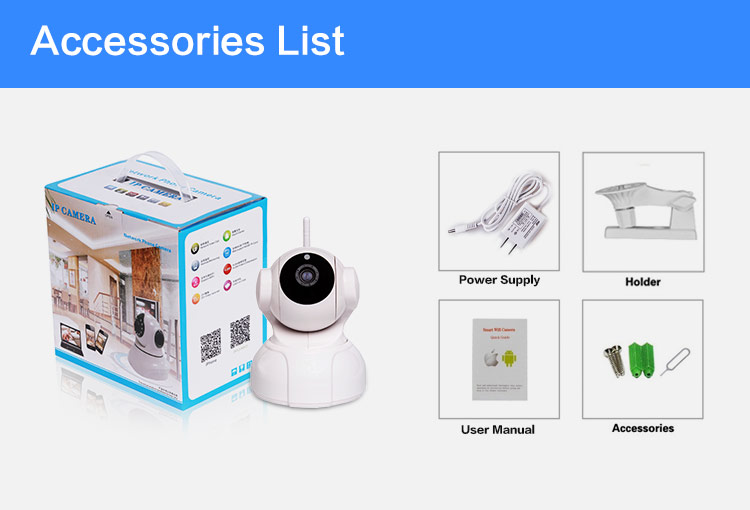 Informazioni sulla società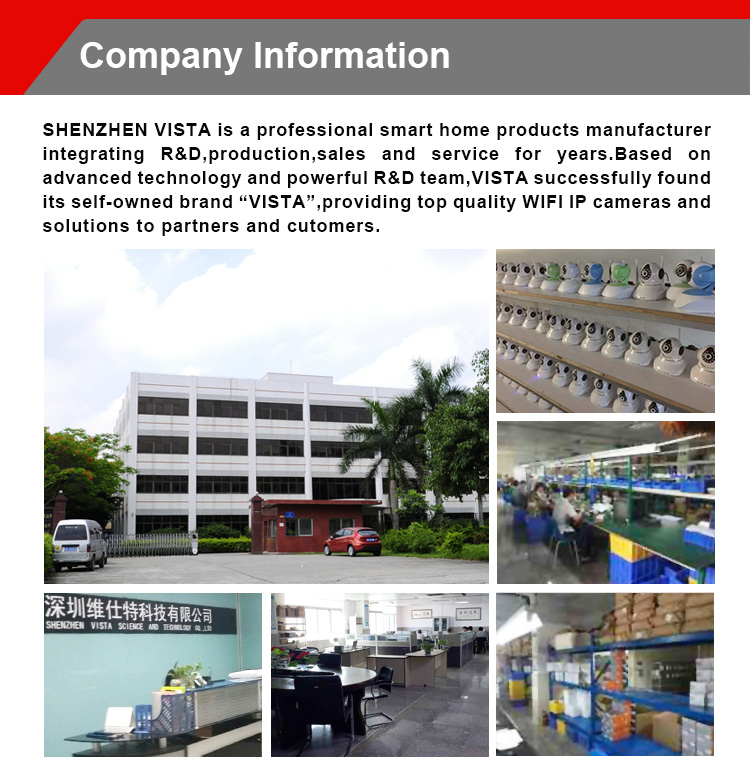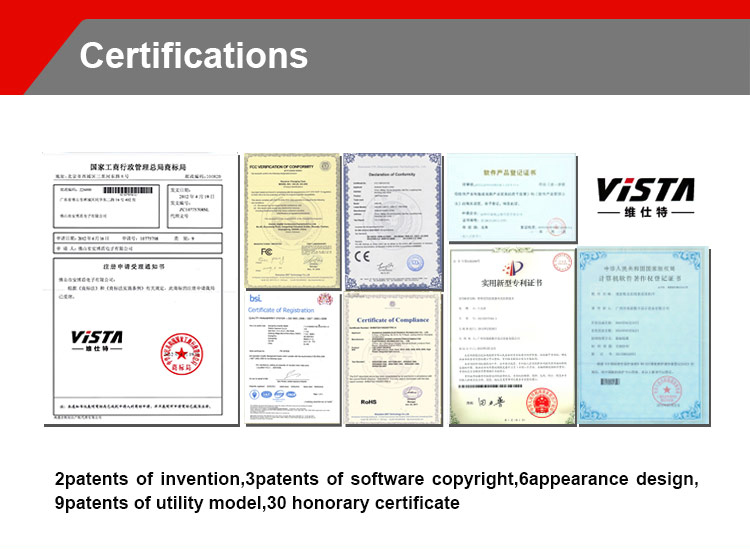 Q: come possiamo fare un ordine?
R: potete inviarci inchiesta online o via email, invieremo preventivo e conferma l'ordine, una volta ricevuto il pagamento secondo il PI, si consegnare merce presto e dirvi il numero di tracking.
Q: qual è il metodo di pagamento?
A: accettiamo i termini di pagamento di T/T, L/C, Western Union, VISA, Mastercard, Escrow, paypal e così via. Opzionale da client.
q ho personalizzare il pacchetto e stampare il nostro logo sul pacchetto e prodotti?
: Sì, noi offriamo personalizzati pacchetto e logo con diversi materiali.
Q. Qual è la garanzia per i vostri prodotti?
A: promettiamo garanzia di due anni per tutti i nostri prodotti.
Q. Qual è il MOQ?
A: il nostro MOQ è 5 pz, ma l'ordine del campione è benvenuto.
Q: possono avere campioni per testare la qualità?
: Sì, è possibile acquistare campione per testare la qualità prima della quantità di ordine.